Presentation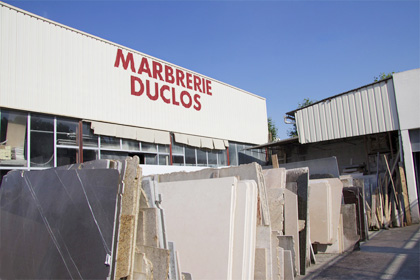 Located in the heart of Bordeaux, since its inception in 1920, the marble Duclos specializes in interior and exterior layout and shaping natural and composite stones. This know-how is passed from father to son for three generations.
We custom make all interior and exterior work in granite, marble, stone, onyx and quartz. Performing any work on measures shaped by hand or with the help of our digital machines. We can also reproduce the work style such as fireplaces or moldings stairs.
Our workshop is composed of experienced masons who will use their expertise to help you realize your projects.
▪ Timeless and modern, classic
▪ Extraordinary, exceptional, incomparable
▪ Aged, weathered, softened
▪ Mat, molded, bent
Unique in Bordeaux center.
To get an accurate quote, we recommend you to discover the diversity of our materials.
Our fleet of almost 1,000 m² which are represented marble, granite, quartz, onyx with approximately 400 references.
In our showroom of 400m ² which displays our creations.
The Duclos Workshop :